Satellite IF Line Amplifier 24dB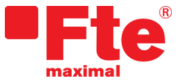 FTE Maximal BNV2000 SAT 24dB Line Amplifier
This practical and small amplifier is fed directly from the satellite receiver itself and is capable of increasing the power of the satellite signal (950-2400 MHz) between 16-24dB, supporting a maximum output level of 107dBμV.
Ideal amplifier when the satellite reception signal is very weak, especially when a large number of meters of cable have been used from the satellite dish to the receiver.
Compact line amplifier, 81x25.5x16mm, with female "F" connectors at both ends.
Fte
24/48 Hours
Satellite Line Amplifier with 24dB Gain
What technical specifications does the FTE BNV 2000 SAT Amplifier have?
Code: 0703009
Description: SAT line amplifier
Frequency band: 950-2400 MHz
Gain: 16-24 dB
Noise figure: Typ. 5 dB
Output level (EN 50083-3): 107 dBμV
Connectors: F
Dimensions: 81 (w) x 25.5 (h) x 16 (d) mm
Fte
24/48 Hours
More Information

| | |
| --- | --- |
| EAN | 8436018441030 |
| System | DTT & SAT |
| SERIE | F-connector |
| Color | Red |
| Type | Line amplifier |
| Entorno | Interior |
| Input signal | FI |
| # Inputs | 1 |
| Outputs | 1 |
| Gain | 24 |
| Max. output level Ganancia (dB/uV) | 107 |
| LTE compatible | No |
| Current bypass | Satellite |
| Product Brand | Fte |