Satellite Decoders - Buying Guide
When we talk about a satellite receiver, satellite tuner, or satellite decoder, we are talking colloquially in all three cases of the same product.
The satellite receiver is the element that allows us to view satellite signals on our television. It is together with the parabolic antenna and the LNB, the only three elements that are always needed to watch satellite television, although some televisions that integrate a satellite tuner have already appeared on the market.
Let nothing stop you from enjoying your favorite television channels. Not even being in another country. With our selection of satellite television receivers you have what you need so that your television becomes the window to the world you are waiting for. There are a large number of models to choose from, with advanced functions such as the possibility of turning your television into a smart TV, receiving Internet channels or expanding its capabilities with applications.
The arrival of High Definition or HD means that you have hundreds of new channels to choose from. As long as you have a receiver that supports the HD signal, it improves the image and makes everything look higher quality. Take a look at all the products we have to make your television experience the best it can be. You just have to choose the satellite receiver that best suits your preferences and tune in to your favorite channels. In each tab you will find the necessary information to decide. In the online store we have: HD satellite receiver, sattdt receiver, DTT decoder, satellite, tuner, decoder, wifi decoder, CI, CI+ cards, Linux HD satellite receiver, Android, Movistar compatible, digital satellite receivers, satellite, tuner satellite dish, IPTV for international channels (French, Italian ...), PMCIA for Dutch television, Full HD DTT and much more at the best price.
Do you want to buy satellite receivers?
Currently, satellite receivers incorporate advanced functions, such as recording, high definition, card reader, internet connection to run applications such as YouTube or the browser, video playback, etc. They are really multi-application teams. We have all of them in our online store.
Satellite receivers can tune in open or encrypted satellite channels, but only satellite receivers with a card reader, to which the operator's subscriber card is inserted (for example Canal plus, Movistar+, TNTSAT, TIVUSAT, etc), they can open those scrambled channels.
When we consult our online store, and we intend to buy a satellite decoder, a lot of doubts appear, since satellite receivers increasingly incorporate new features and applications.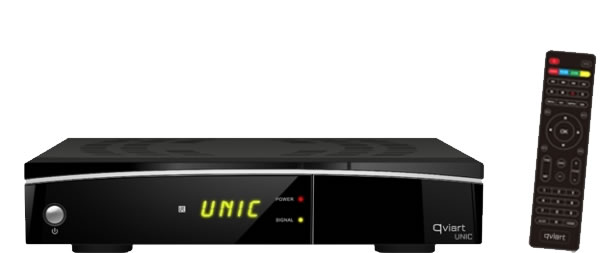 Characteristics of satellite receivers
SD or HD tuner:
The SD tuner is the standard tuner, with this you can only see channels in standard quality, normally they only have a scart connection.
The HD tuner is the high definition tuner, with this you can see both standard channels and high definition channels, they always have an HDMI connection, but some have a scart connection and others do not include it directly.
Channel Preset:
Channel Search It is always good to check the type of channel search you perform, because if a satellite receiver can only search for predefined channels in its list, it will not find channels that are not preconfigured. In order to find all the satellite channels, you must have the option of "blind scan". Although this option is slower, what it does is perform a sweep of all the possible frequencies, precisely for that reason it is a slower type of search, but in return the result is that we obtain a complete list with all the available channels, without leaving us back none.
Card Reader:
The card reader allows access to the payment contents with a subscriber card of the operator in question. Card readers are usually Conax, to read cards that integrate this encoding. But there are also receivers that can be used with all or almost all the available cards, these receivers are called multisystems. There are systems like Viaccess, Irdeto, Nagravision, Mediaguard, etc, that these receivers can read. It is best to check if a recipient will read a specific card before making the purchase.
Common Interface:
The common interface is a slot that allows you to insert an adapter and, in turn, insert a card. A receiver with common interface is a very versatile satellite receiver in this sense because you can put the necessary adapter for the card you want to use.
HDMI, RCA and Scart Outputs
The video outputs for the receivers are mainly three types.
The HDMI output used in high definition receivers. We can also find it with component video outputs, although it is less frequent.
RCA output, also known as red, yellow and white connection. It is the composite video output and is used in standard resolution receivers.
The scart output is the same type of signal as the RCA but with a different connection format.
In HD equipment we can still find RCA or scart outputs.
Optical audio outputs and coaxial audio output
The optical audio output is a digital output, it is known as S/PDIF output and a fiber optic cable is used for its connection. You can easily identify it because it has a cover that when inserting the fiber optic cable you can see the red color of the laser emission. (Watch out for this light).
The coaxial audio output is an analog audio output, and uses the same type of connection as the RCA connection. It is identified because it is normally a white or orange connection and coaxial.
These audio outputs are used to feed the audio into a stereo, or an audio amplifier. Or also directly to the TV if it supports either of the two connections.
DiSEqC, Usuals and Unicable support:
As for the receiver's ability to handle a parabolic motor, or a disecq switch, we have to make sure that it supports these protocols. The diseqc protocol supports both DiSEqC switch handling and motor handling. There is also a protocol to move motors, which some motors support and if the receiver has it, it can be used, which is the Usuals protocol.
And finally, the Unicable system is a protocol that very few receivers on the market have and it is a system that Unicable LNBs use to be able to give signal from all satellite channels, through a single cable and up to four receivers from the same installation.

Additional functions
Internet connection:
Receivers that connect to the internet can generally always do so by network cable (Ethernet) with an RJ45 connection. There are also many models that integrate Wifi or a USB Wifi antenna can be connected. One way or another they connect to the internet. A cable connection is always more recommended than a Wi-Fi connection, due to the stability of the signal.
The internet connection is usually related to the satellite receiver's ability to perform different functions. Some accept updates online, others allow you to view YouTube videos, Youporn, watch news, check email, even surf. There are other models of IPTV, and models that do it all. Regarding internet connectivity, we must investigate the possibilities of purchase, because we can open a wide range of options, especially if the receiver is Android or another system that allows installing new applications.
USB, Media player and PVR:
The USB port on the receiver is normally intended so that you can use it for recording. But it is somewhat misleading, because it does not perform this function on all receivers. In some it only serves to update the system, recover the equipment or simply to reproduce files. You have to see if you are interested in recording and reproducing, that the receiver is PVR.
Operating System:
Although most receivers have their own unalterable operating system, other receivers are appearing on the market with an open operating system, such as Android or Linux, which allows them to expand their functions. For example, in Android receivers, they have the Google PLAY STORE, and in them we can find all the applications that we can also find on our Smartphone, so that the TV becomes an Android device, and you can manage it with the control of the satellite receiver. Another example is Linux, an open system in the receivers that allow access to its guts and program everything that the experienced user is capable of squeezing. There are many forums to help you in this regard. Finally and for the moment, there are also receivers that, although the system is its own, allows updates from official and other unofficial websites, which multiply its possibilities, increasing its functions with those that the manufacturer considers necessary or advanced users have published these media websites.