Comelit 4+N EXTRA-MINI Audio Kit for 4 Homes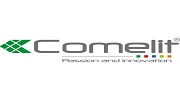 EXTRA-MINI 5-Wire 4+N Audio Kit for 4 Homes Comelit KAE5064
4+N analog doorphone kit for 4 dwellings, composed of an EXTRA series entrance panel with 4 buttons, 4 MINI series telephones with 2 buttons and a 1200 transformer.
This kit supports up to 2 phones per user. The plate includes the necessary accessories to be installed flush or surface.
The EXTRA series plate is characterized by its design in stainless steel with high resistance to the elements, with backlit card holders.
The MINI telephone has an electronic call, lock release button, additional button for other functions, call volume control and privacy function with red indicator.
The audio/video door entry kits do not include the lock release.

24/48 Hours
4+N EXTRA-MINI Electronic Doorphone Kit for 4 Homes with the option of expanding to 2 telephones per user
What technical specifications does the Comelit KAE5064 Audio Kit have?
CONTENTS
1x EXTRA 4 + N entrance panel ref. ET5100
1x 12Vac transformer ref. 1200
4x MINI Telephone 2 Pushbuttons 4 + N ref. 2702W
PLATE CHARACTERISTICS
Type: Monoblock
Flush mount: Yes
Wall mount: Yes
Height: 165mm
Width: 95mm
Depth: 6.5mm
PHONE FEATURES
Speaker volume regulation: Yes
Microphone volume regulation: Yes
Ringtone volume control: Yes
Sound system: Yes
Wall mount: Yes
Desktop mount: Yes
White color
Total buttons: 2
Actuator control function: Yes
Privacy function: Yes
Electronic ringtone: Yes
Lock release button function: Yes
Traditional system: Yes
Supply voltage: 15 ÷ 16Vdc
Consumption during call: 0.42 mA
Consumption during communication: 0.35 mA
Microphone: 4mm, omni-directional
Operating temperature: -5 ÷ 40 ºC
Weight: 258.55 g
Terminals: S 2 3 4 P1 P2
Height: 189.99 mm
Width: 103.12 mm
Depth: 29.97mm
24/48 Hours
More Information

| | |
| --- | --- |
| EAN | 8023903344820 |
| Color Portero/Videoportero | Solo Audio |
| Type | Complete Kit |
| Product Brand | Comelit |
We found other products you might like!