Purchase H45 and H60 Televes meter extensions
This category is intended for owners of a Televes H45 or H60 meter. In this section you will find all the options and expansion prices of these meters as well as the ability to send the equipment to the factory to get the field meter calibration certificate.

The articles published here are not measure equipment but options to improve them.
Expansions, accessories and services for Televes field meters
Televes has offered field meters on its catalog, originally starting on the FSM 450 and FSM 650. This equipment ranges sold by then field-work with future expansion possibility depending on the needs of the installer.
Televes continues in the same line currently, allowing expandability equipment and field meters
H45 Compact
and
H60 Advance
.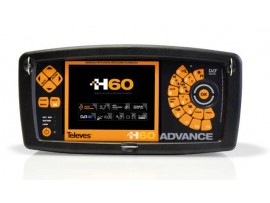 This is a great advantage as far television in many countries actually uses digital broadcasting system DVB-T, but in the future, when starting DVB-T2 the Televes equipment will allow updating and may well continue to use the new standard.

Another common extension is to incorporate the option of measuring optical fiber to the field meter. An authorized telecommunications A-TYPE installer needs a optical fiber meter to register as F-TYPE installer. Thus, in the case of already having a Televes meter, just buying an equipment upgrade is required.

With the arrival of LTE, 4G signals, WIFI and upcoming signals the need has arisen to have an expanded spectrum analyzer 5 ... 3300Mhz, capacity that has been incorporated into the updating meter catalog.

Also keep in mind that an authorized installation company must have their measure equipment calibrated and certificated every year. We also offer a factory delivery service for meters, both to upgrade or to recalibrate and get this calibration certificate.

TDTprofesional offers the equipment-to-factory shipment service, ensuring that the meter travels insured for 100% of its value both the outward and return thus avoiding any risk.

For any doubts or on the compatibility of these extensions with your measure equipment, please contact us. Note that a number of low cost Televes H45 out of print equipment, do not allow extensions.

Once placed an order for any of these extensions in our website, our team will contact you to inform you of the procedure, terms of delivery, management, etc.