Buy television cables for antenna installation
The coaxial cable is responsible for transporting the RF signal, the DTT and satellite signals from the antennas to the receivers, passing through amplifiers, distributors and television outlets, among other elements.
We can find different types of coaxial cables, depending on the material or diameter designated in the factory. In our online store you can buy all types of cable and products related to coaxial cables. 75 ohm cable, 75 ohm coaxial cable with special features, prefabricated coaxial cable patch cords, clamps and accessories.
75 Ohm coaxial cable, patch cords, clips and accessories
In TDTprofesional you can choose to buy a wide variety of coaxial cables. We have cables for all situations:
Coaxial cables with very low signal loss: these are copper cables, with good shielding and very low attenuation, designed for large television installations in neighboring communities to minimize cable losses in the installation. Cheap coaxial cables that are made of aluminum, but for simple installations with a few meters of cable where the attenuation that the cable may have does not influence, they more than fulfill their function.
Halogen-free coaxial cable: This means that they are not flame propagators. If there is a fire, the cable does not burn, which means that it does not spread through the building.
Polyethylene coaxial: also called PE coaxial, they are prepared to withstand inclement weather. It is coaxial cable for outdoor use. Generally black.
Special thickness cables: 10mm thick or thin cable, 5mm cables. The first for long cable runs, and the second generally for satellite installations or for passing the cable through narrow tubes.
Coaxial cables are normally white, although we can also find them in black and gray.
How to avoid interference?
Currently with the arrival of LTE2 and the interference caused by the 4G/5G mobile phone system, coaxial cable has regained its importance, since now and more than ever a quality coaxial cable is needed that provides good shielding, necessary to face installations suffering from interference.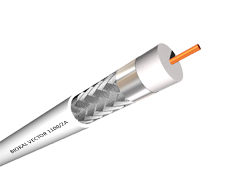 These cables are usually called class A, class A+ coaxial cables, or triple-shielded or triple-braided cables. You can check the price of coaxial cables in our online store.
Paying too much attention to shielding is useless if two fundamental things are not taken care of in the installation. On the one hand, connect the elements to ground, which makes the mesh fulfill its function. And on the other hand, use shielded connectors, quality connectors that prevent interference from entering through the connector itself.