Purchase professional field meters for installation.
In our online store you can find a wide variety of professional field meters to suit all types of profile installer. Any of these are valid field meters to register as authorized telecommunications installer.
Professional meters: Promax & Televes
All field meters in this category are suitable to register as authorized installer, they are field meters with display, spectral analysis, error rate for digital signals QPSK and COFDM measurement and quality measurement (MER) for DTT (DVB-T).
They can also measure basic parameters, such as power (dBmu) and noise (C/N). All them incorporate spectrum and, depending on the model, it is possible to more or less zoom. These meters already incorporate MPEG-2 (or MPEG-4) card, at least for channel display on the screen. Most of them have display constellation function. The most advanced meters include Echo measurement. They also incorporate USB ports to export the measures to a computer. These features have to be checked if available in the data sheet.
We have the cheapest field meters on the market which are valid to register as authorized telecommunications installer. We offer the entire range of Televes and Promax field meters.
Televes field meter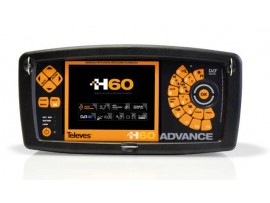 The Televes meters series include the H45 and H60 custom-made field meters, wich makes possible future function extentions addition. A Televes field meter can be expanded to also measure optical fiber, for example. We have a section dedicated to Televes field meter extensions .
Promax field meter
Promax, a leading company in instrument innovation, offers the RANGER field meters, new tablet size field meters and the first field meter that can measure HEVC H.265, the latest generation of DVB-T2. Some models are allowed for an extention, although most models come so complete that an update is never necessary. Promax usually spots a rolling plan for field meters, which offers advantageous discounts if you let your old meter, ask for it.