4+N Universal Telephone 2 Buttons Comelit OUTLET
Availability:
Out of stock
1 to 7 days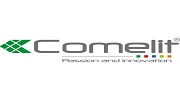 1 to 7 days
OUTLET: Comelit 2703U MINI 2 Push Button Universal Telephone 4+N
Universal MINI series telephone ideal for replacement of 4+N telephones from Comelit or other brands.
It has 2 buttons: the one for the lock release and another for additional functions, such as a concierge call or opening another access.
Telephone with electronic call. It allows to regulate the volume of the call, the speaker and the microphone.
It can be used in both positive and negative common installations.
IMPORTANT: This phone does not have a buzzer call, only electronic call.
What is TDTprofesional OUTLET?
Our Outlet category is made up of products from our clients' returns, which are in perfect condition and have been tested by our technical department to guarantee their correct operation. The product packaging may show knocks or the product may not be sent in its original packaging. The products in our Outlet include a special discount and have the same guarantee as new products.
1 to 7 days
OUTLET: Comelit MINI series 2-button Universal 4+N telephone
What technical specifications does the Comelit 2703U Telephone have?
MAIN FEATURES
Sound system: Yes
Wall mount: Yes
Desktop mount: Yes
White color
Total pushbuttons (n °): 2
FUNCTIONS
Privacy function: Yes
Electronic ringtone: Yes
Lock release button function: Yes
HARDWARE FEATURES
REGULATIONS
Speaker volume regulation: Yes
Microphone volume regulation: Yes
Ringtone volume control: Yes
GENERAL DATA
Height (mm): 190
Width (mm): 103
Depth (mm): 30
COMPATIBILITY
TECHNICAL CHARACTERISTICS
IP protection degree: IP30
Weight (g): 260
TECHNICAL CHARACTERISTICS
Terminals: A B C D E C2 P2
More Information

| | |
| --- | --- |
| EAN | 8023903303018 |
| Color | White |
| Color Portero/Videoportero | Solo Audio |
| Type | Phone |
We found other products you might like!